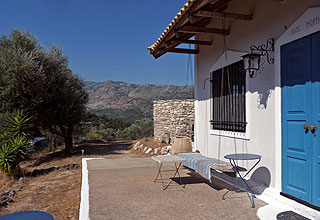 ...or like the Greek people say: Yasou!
For rent (from the end of April until mid October) in Western Greece, close to the Ionian coast with its beautiful azure blue sea: A charming country house situated on a small mountain.
The holiday home for those who want to relax and enjoy. Lovely and quietly situated characteristic 'rustic chic' detached house with all around unobstructed views of the mountains, just around the corner from the village of Vasilopoulos and the road to the authentic boulevard/port town of Astakos, with ferry to the Kefalonia and Ithaki islands.

This charming house has something almost unknown in Greece, which is privacy!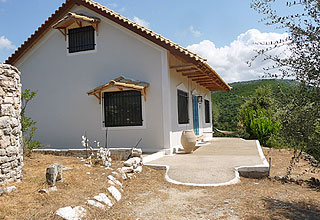 The perfect place to de-stress/relax etc. And yet with everything that is desirable, reasonably nearby. This (luckily!) not yet by mass tourism discovered part of Greece still breathes the real Greek atmosphere, the traditional Hellada, the green mountains with wild vegetation and not to forget the coastline with the beautiful azure blue sea and views of many islands.
The locals are friendly and do their best to make you feel at home. We live nearby and know this area for more than 20 years. So, we can advise you if you would like us to.

Where many tourists go to the right, you can go to the left... and that brings you this unique place!

For rent through the (Dutch) owner.