Your holiday home
The house is 125 sqm, consists of 2 floors and is completely unobstructed. The only neighbours are the nearby goats who sometimes come up to the house out of curiosity.

The house of course is fully furnished and equipped with all linen. You only need to bring clothes and toiletries and of course do not forget a beach towel and/or mat! Also magazines and books are available.

Downstairs: spacious cozy living room, spacious kitchen, separate toilet, bathroom with shower and a large hall with stairs to the first floor.
Upstairs: 2 spacious bedrooms, each with a double bed, ample closet space and spacious hall/landing.
Outside: large porch and a terrace all around the house with a different view of the mountains, barbecue, lounge beds, lounge chairs and various seating areas. So enjoy the sun (or not)!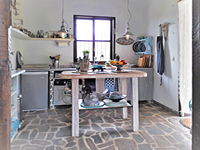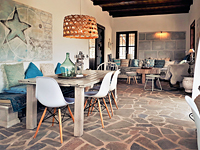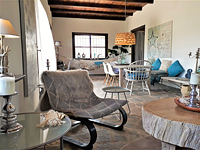 In the evening you can enjoy the romantic starry sky with a chance of seeying shooting stars. Of course you can make a wish!
No swimming pool requiring daily maintenance but sea and beaches are nearby and free of charge.
Of course there is private parking at the house and a private driveway up to the house. The spacious grounds around the house are fully fenced.
The house is insulated and all windows have mesh screens to keep insects out. There is also 'green power', 220V by means of solar panels.

This place may give you the feeling that 'you don't have to do anything and you are allowed to do nothing...'!
We enjoyed this house for many years but we have moved to nearby Astakos.