Area information
The port town of Astakos (sailors will probably know the name) is 9 km away from your holiday house and is directly accessible by road, Preveza/Aktio airport 5 minutes drive, Patras and Igoumenitsa 1.5 and 2.5 hours, peninsula Lefkada/Lefkas 'around the corner' (5 minutes), town of Messolongi (salt) 3 quarters of an hour, islands Kefalonia and Ithaki are just across the water.
Who knows what else you discover!
This area is not yet 'affected' by tourism (do not expect to be able to rent a scooter here). Boulevard, taverns, restaurants with still nice pricing! Eating out will cost almost the same as cooking at home. There is still an authentic village atmosphere and you experience everyday Greek life.
Fresh fish, organic meat and vegetables and local wine (catering: 3 euros for half a litre!). Everywhere you can eat, drink coffee, an ouzo, beer or wine etc. with almost always a complimentary snack served with it.

There are many (almost private) beaches, without tourists! A coolbox is also available, so even cold beverages and food are possible on your (private) beach. Having a beer in the surf... excellent!

(In July/August you will find more Greek people seeking refreshment)
Astakos
This port town, was founded a long time ago in a natural bay along the almost untouched Ionian coast, now with some sailing tourism but still many traditional fishing boats can be found here at the harbor, which offers a pleasant view from the terraces in the morning and evening.
Supermarkets, shops, the weekly market on Thursdays and freshly caught fish. The fishermen often offer their catch for sale directly on the boulevard.
There are small beaches in Astakos and more beaches almost around the corner (from the house a 20 minute drive away).
Sitting down on the boulevard and watching the activity as the ferry to Kefalonia and Ithaki arrives or departs or when the sailing boats moor is a lovely sight to see. And there are enough taverns, kafenios and restaurants for your further enjoyment!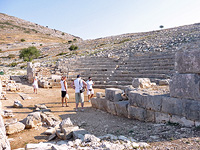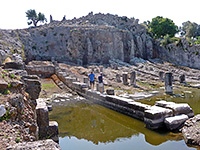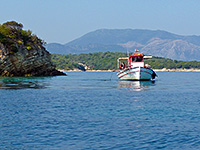 In the area
Little beaches that are often 'for your private use'.
Angelina Jolie and Brad Pitt had also selected an island here, but because of their divorce the sale did not go ahead.
Mitikas-beach, 20 minutes away. A really long beach with beach taverns to enjoy good food and cool drinks, sun loungers and parasols. Also boat rentals from Mitikas.
Messolongi. A nice town, known for its water birds, lagoon and (Kalas) salt production.
Dioni beach, 40 minutes away. A river / sea delta in a nature reserve overlooking the island of the Sheikh of Qatar, long and never busy beach with nice 'hippie' tavern, cold beverages, souflaki from the grill and often kitesurfers. Fun to look at.
Peninsula-Lefkada day trip, a 75 minute drive away. Touristic but still very nice for a day.
Walking on the 'old' road Astakos-Vasilopoulos: the ruin villages and very old monastery and many old churches and even a castle ruin dating back to 1300.
In the area there are still many archaeological sites where you are often 'just by yourself' exploring.
The owner also has a 1- or 2-person kayak for rent.
Sunbathing, swimming, snorkling, walking, relaxing on the terraces, car trips, photographing, 'discovering' the area or just 'relaxing at home', enjoy the quiet view from the hammock. A cold beverage to go with it and 'Yamas'!
In short: there is plenty to do!